Metallica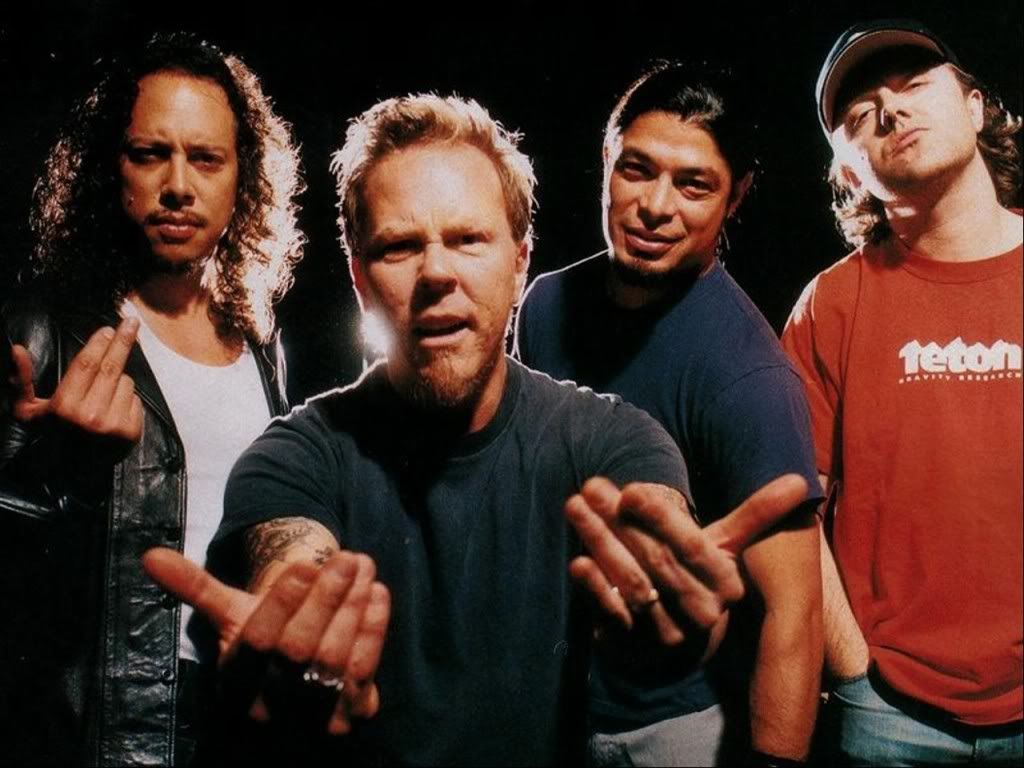 tr
Versão limitadíssima, apenas 1000 cópias, do disco "Kill 'Em All" vai ser relançada em vinil vermelho sangue!
O álbum é o primeiro do Metallica, lançado em 1983. Disco este, que teve nome e arte trocados por incitar um visual muito violento, inicialmente teria na capa uma mão emergindo da privada segurando uma adaga e o nome de "Metal Up Your Ass".
Produzido por Paul Curcio e Jon Zazula, o disco tem a guitarra de Kirk Hammett, pesada e mal-encarada que cria riffs agressivos, a bateria frenética de Lars Ulrich, o vocal de Hetfield, na época imaturo e o "lead bass" Cliff Burton.
Reunidos eles criaram um verdadeiro clássico responsável por  mostrar ao cenário heavy metal seu novo gênero, o thrash metal, além da fama merecida e a legião de fãs.
Segue o tracklist:
Lado A:
01. "Hit the Lights" 4:18
02. "The Four Horsemen" 7:15
03. "Motorbreath" 3:10
04. "Jump in the Fire" 4:43
05. "(Anesthesia) Pulling Teeth" 4:16
06. "Whiplash" 4:12
Lado B:
01. "Phantom Lord" 5:04
02. "No Remorse" 6:28
03. "Seek & Destroy" 6:57
04. "Metal Militia" 5:13
As vendas começam amanhã (15/07) uma hora da tarde. Seja rápido e não deixe ter um desse em casa. Acompanhe aqui.
Two Door Cinema Club
Uma das bandas mais bem comentadas do lado-indie da força lança o clipe da música "Come Back Home" e um vinil 7″ com a música.
Com seu electropop dançante e hiperativo, o trio da Irlanda do Norte, Two Door Cinema Club apareceu ano passado com o disco "Tourist History", aclamado por público e crítica.
Cheio de sintetizadores, refrões cativantes  e guitarras incansáveis o disco percorre uma ensolarada manhã de sábado na faixa "Something Good Can Work", uma noite após um filme furado no cinema em "Cigarettes In The Theatre" e um bucólico, e ao mesmo tempo animado, fim de festa em "Undercover Martyn".
Tracklist:
Lado A:
01. "Come Back Home"
Lado B:
02. "Come Back Home (MYD Remix)"
O novo single "Come Back Home", que recentemente ganhou um bizarro e genial clip, acabou de sair em vinil e pode ser comprado por aqui.
Morrissey
O fundador dos Smiths anunciou recentemente detalhes do relançamento do album "Bona Drag", uma compilação de B-sides do cantor lançado em 1990. O lançamento conta com as faixas remasterizadas e mais seis músicas inéditas no dia 27 de Setembro.
Toda a revisão do disco fou supervisionada por Morrissey, que também foi responsável pela direção de arte e reedição.
Segue o tracklist:
1. "Piccadilly Palare"
2. "Interesting Drug"
3. "November Spawned A Monster"
4. "Will Never Marry"
6. "Such A Little Thing Makes Such A Big Difference"
7. "The Last Of TheFamous International Playboys"
8. "Ouija Board, Ouija Board"
9. "Hairdresser On Fire"
5. "Everyday Is Like Sunday"
6. "He Knows I'd Love To See Him"
7. "Yes, I Am Blind"
8. "Lucky Lisp"
9. "Suedehead"
10. "Disappointed"
Faixas bônus:
1. "Happy Lovers At Last United"
2. "Lifeguard On Duty"
3. "Please Help The Cause Against Loneliness"
4. "Oh Phoney"
5. "The Bed Took Fire"
6. "Let The Right One Slip In'"
OUÇA AGORA MESMO A PLAYLIST TMDQA! ALTERNATIVO
Clássicos, lançamentos, Indie, Punk, Metal e muito mais: ouça agora mesmo a Playlist TMDQA! Alternativo e siga o TMDQA! no Spotify!